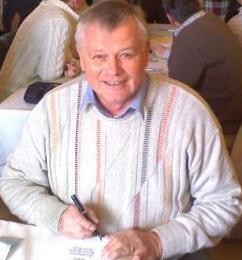 Günter Deckert, a long-time Nationalist leader in Germany and friend of Holocaust Revisionism. Günter was born at Heidelberg in 1940. His father was killed as a soldier in the war. Günter was a successful and much-respected teacher before he was forced out of that profession because of his political views. He previously served five years in a German Federal prison in the 1990's for violation of Section 130 -- a so-called "speech crime." Günter Deckert is a husband, father and grandfather.
Here in his own words is Günter Deckert's description of the reasons for his new incarceration: "My "crime" this time… I made it possible that Carlo Mattogno´s Auschwitz – The First Gassings (Italian version 1992, English version 2002) could finally be published in German, too, in 2007. "
Read the full story at Carolyn Yeager's website: http://carolynyeager.net
We at Christogenea think that it is pitiful, that German men and women are not taking to the public squares in order to defend the right to free speech in Germany.