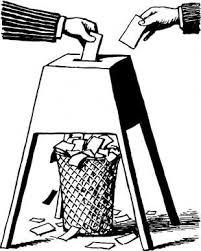 The Protocols of Satan, Part 16
Here on the heels of the latest United States Presidential election we return to our presentation of the Protocols of Satan. Perhaps we may soon know whether this latest election result was granted to provide the world with some temporary relief from the wiles of the devil, or if it is indeed another chapter in the ultimate fulfillment of the Protocols. We should seriously doubt that Satan has ceded any control over American politics, and believe instead that the devils are indeed satisfied with the outcome. George Soros had boasted on network television that Hillary Clinton would lose the popular vote, and win the electoral college. It didn't happen. In fact, the result was precisely the opposite. But how do you know when a Jew is telling the truth? They make war by means of deception, and they feign weakness when they have the advantage. When a Jew moves his lips, he is lying, and wherever one may see a rabbi, there has already been a crime. These adages are true, and they are always true because even when a Jew appears to be telling the truth, he is doing it with pretense, and with an ulterior motive that is much more important to him than any concession to fact. Donald Trump has said a lot of things which nationalists everywhere love to hear, and the next several months will be an indication of whether or not he really meant any them, and also of how he meant them. His interpretation of his words certainly differ from that of many of his supporters.
We have also noted that during the weeks and months preceding the election, many nationalist-leaning Trump supporters practically refused to process many things which Trump had said in his speeches. After the election, when protests broke out, some were even upset that Trump called for unity, understanding that White Americans should have no unity with the types of supposed people who were protesting. However Trump has not betrayed his supporters at all. They just didn't hear his words during the campaign. For instance, in the opening moments of his so-called Gettysburg Address speech given in October, Trump made a reference of the divisions which Abraham Lincoln faced as president, and expressed hope that he himself may heal the "divisions we are living through right now". Like it or not, that is a call for unity amongst Americans regardless of race or regardless of any other barriers, that the divisions among the races should somehow be healed. That is the real Donald Trump, whom too many people refuse to see. So they will express surprise and betrayal over the months and years to come.
For more see The Protocols of Satan, Part 16 at Christogenea.org